Do your job sites in Ohio or Northern Kentucky require a readily available supply of water? A water truck rental from Ohio — The Cat® Rental Store offers a convenient, mobile solution. Haul large quantities of water to suppress fires, dampen dry areas, compact loose soil, control dust at construction sites and perform other essential tasks.
Tank Capacity
5,000 Gallons
PRICE (USD)
DAY
$1,700
WEEKLY
$3,600
MONTHLY
$8,600
Add to Cart
Tank Capacity
2000 gal
Loaded Weight
13260 lb
Power
210 hp
PRICE (USD)
DAY
$600
WEEKLY
$1,600
MONTHLY
$4,400
Add to Cart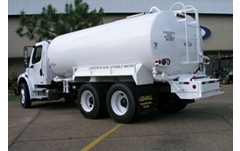 Tank Capacity
4000 gal
Loaded Weight
19840 lb
Power
300 hp
PRICE (USD)
DAY
$1200
WEEKLY
$3400
MONTHLY
$6,600
Add to Cart
Ohio — The Cat Rental Store is the rental branch of Ohio CAT, your trusted heavy equipment solutions provider for more than 75 years. We're your one-stop resource for high-performing machines that enable you to meet your project objectives and lower your company's operating costs.
Water Truck Rentals From Leading Manufacturers
Our vast equipment rental fleet includes an array of products from some of the most reputable manufacturers in the industry. As the region's only authorized Cat dealer, we can provide your business with a Cat 725 model. This articulated water truck features a tight turning radius that is ideal for maneuvering in confined areas. It can also haul up to 5,000 gallons of water. With five nozzles, you can connect multiple hoses to achieve maximum coverage at your site.
You'll also find smaller vehicles for less demanding water applications. We offer trucks with 2,000-gallon and 4,000-gallon capacities equipped with five nozzles.
The knowledgeable team members at any of our Ohio and Kentucky locations can help you choose the right water truck for rent based on your applications and budget. You can make your selection with complete confidence.
Reliable Equipment and Flexible Terms
When you rent a water truck in Ohio or Kentucky from Ohio — The Cat Rental Store, you get an expertly maintained, thoroughly inspected vehicle you can count on for your most demanding tasks. You'll also have the flexibility to rent by the day, week or month at a budget-friendly rate.
We support our rentals with an assortment of value-added services to maximize your customer experience. Our team can provide operator training to ensure your crews know how to use the equipment productively and safely. Rental Equipment Protection (REP) is also available to limit your financial responsibility when damage occurs. With our mobile app, you can manage your account from any remote location.
Get a Water Truck Rental Quote Today
Visit the nearest Ohio — The Cat Rental Store location today for a closer look at our water trucks for rent. You can also contact us online for a fast quote.